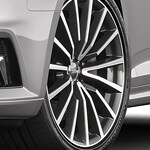 If you are looking for a luxury sedan, come to our Audi Calabasas and let us show you the Audi A5 coupe. We believe that drivers in Calabasas, CA will love the looks of this car that is a real head-turner. This luxurious coupe is sure to impress you.
The Audi A5 coupe features 32 lights in its Matrix-design LED headlights. Audi designed these headlights to provide a low and wide beam making it easier for you to see at night. If you meet an approaching vehicle, then they automatically lower so that you never blind the other driver. That keeps everyone safer on the road.
Additionally, the unique rear taillights on the Audi A5 coupe is designed with dynamic turn indicators so that they catch other drivers' attention. Audi developed these beautifully sculptured taillights to make it less likely that you will get rear-ended while adding to the overall beauty of the coupe.