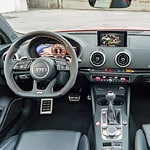 The Audi RS 3 is known for being one of the most capable compact luxury sports sedans on the market, and this reputation has led to its ubiquitous popularity. Our team in Calabasas, CA loves the road presence the RS 3 has when they take it for a test drive around town.
One way Audi has managed to make the RS 3 so quick is with their legendary Quattro AWD system. This system gives the RS 3 an upper hand when it comes to grip and launching off the line. Audi has also given the RS 3 magnetic ride suspension that has been tuned precisely for sport applications.
If you want to feel the Audi RS 3's precision for yourself, you should take it for a test drive by visiting Audi Calabasas. Our team can get you set up behind the wheel, where we think you will be impressed with how much power Audi has packed into such a compact package.