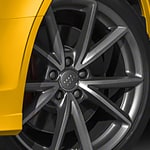 If you are in the market for a compact sports sedan, then you should check out what the Audi S3 has to offer. The S3 is full of features that ups its performance and its daily flexibility. Our team in Calabasas, CA can help you explore the performance features found on the S3
One of the biggest performance factors on the S3 is the 2.0L TFSI turbocharged four-cylinder engine. This mad machine produces 288 hp and 280 lb-ft of torque, which propels the S3 from 0-60 in 4.6 seconds. This engine provides you with the perfect blend of fuel efficiency when you are commuting, and all-out power when you are pushing it to its limits.
To dive deeper into the features found on the Audi S3, you should stop by Audi Calabasas and get behind the wheel. Taking a test drive is the easiest way to familiarize yourself with the features found on the S3.